Skiing Colorado's Sunlight Mt. Sunlight Mountain Resort works for families and extreme skiers.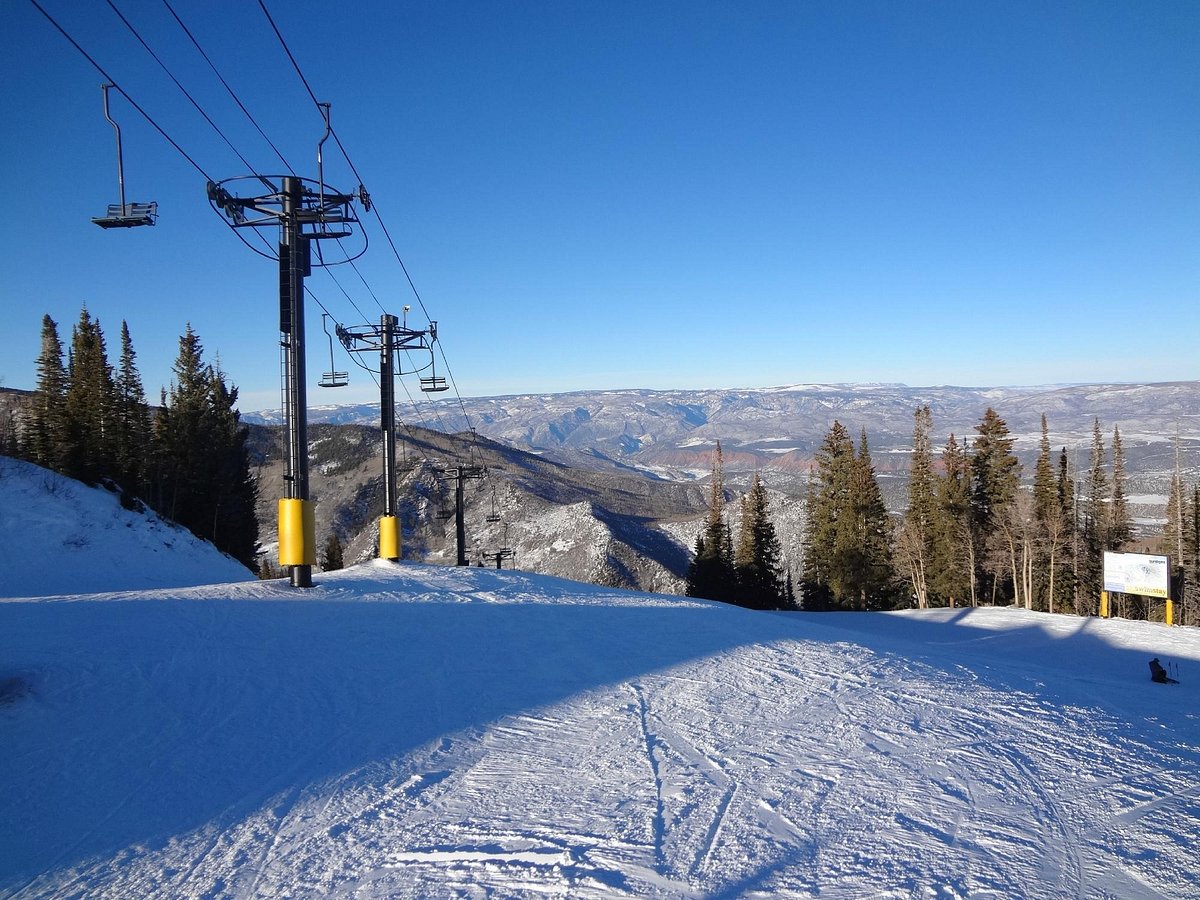 Skiers and snowboarders passing Glenwood Springs, Colorado, along I-70 can't help but notice the huge hotel and its hot springs swimming pool. They sit roadside in plain view.
But, many—if not most—who are going skiing or snowboarding (who are probably en-route to more famous ski resorts nearby), are probably unaware of Sunlight Mountain Resort.
Sunlight sits off the road apiece, not visible from the Interstate, nor even from Route 82, the road to Aspen.
But, for those who follow the signs and take the detour up 27th Street and into the hills, a surprising reward awaits.
Family Skiing & More
For those who know about it, Sunlight is one of those locals' ski destinations that excels at providing family-friend recreation. It holds all the basic criteria for fine family skiing/riding, especially for those with younger children:
It has just one base lodge.
It has wide, forgiving learning terrain.
It's the kind of place where kids can roam freely and be perfectly safe.
It has just enough terrain park to keep older kids interested.
It has an excellent day care facility.
It offers fine learning programs for all ages and interests.
It offers unique programs—like avalanche rescue demonstrations with avi-dogs in action.
But, there's more to this improbable place.
Such as?
Genuine steep, double-diamond terrain, including the steepest
lift-served run in all of Colorado; The Heathen trail dips at an incredible 52 percent grade.
A 2.5-mile, dazzlingly wide, novice trail called The Ute Trail, that's accented with huge rollers that add dimension to a delightful cruise.
A long history that dates back to the 1930s.
Indeed, as I toured the terrain with head ski patroller Norm Wheeler, who has been about Sunlight for 20-plus years, he noted that the original ski hill here was called Holiday Hill. In those days, he told me, the one lift was a rope tow powered by a 1930s vintage Buick. Unlike other ski areas of that time, Holiday Hillers didn't just use the car's engine to get themselves uphill. The entire vehicle was stationed on the mountain.
Norm guided me to what's left of the old automobile—a fully rusted carcass that sits in the trees just off the ski slope. No easy-sliders were these guys in the old days. That tow went right up a run now called Showdown. A respectably steep black diamond-rated route.
But that run is nowhere near as steep as the precipitous runs we followed through the Gibson Glades. The angle of descent was enough to set off vertigo.
And, it's that variety, from magnificent novice terrain to true challenge, that creates the eye-opening effect for the first-time visitor. One would expect a moderately sized ski area like this to offer plenty to beginners and intermediates; to provide good programs for locals; and to offer lower prices for lift tickets.
Sunlight does all that.
But, when you add the dimension of truly steep challenge, you've suddenly got a place that can satisfy anyone in your entourage.
The folks at Sunlight informed me that most of their destination skiers come in from Kansas, Texas, Denver and Colorado's Front Range. But, I'd recommend any ski vacationer make a stop here, even if they're en-route to the big guys at Aspen and Vail. Sunlight is a most pleasant surprise.
And, when you add in the world's largest hot springs swimming pool down in town, you've got something pretty darned unique.