Ski Lessons Teach Children Basic Ski Techniques: Ski School Classes Versus Instruction from Parents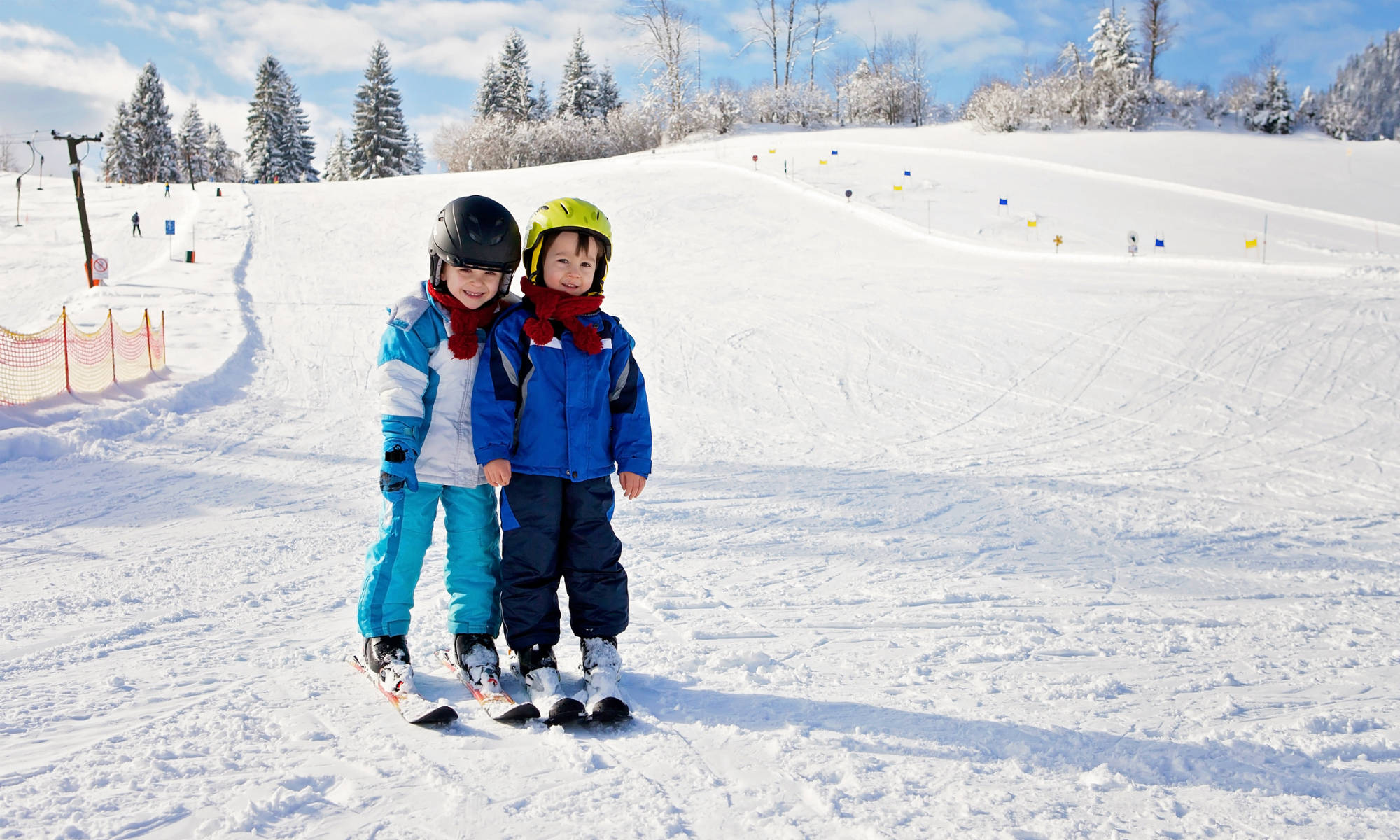 Almost everyone who skis remembers their first time on skis, and it usually wasn't pretty. To the contrary, "I fell off the lift," "I careened right into a ski patrol member," and "I got on a slope that was too steep by mistake and had to walk down" are not exaggerations: They are typical stories about learning to ski, for both children and adults..
Children do have some advantages when it comes to learning to ski: They have a lower center of gravity, and don't tend to fall as hard as adults do. But the first day on skis can be difficult for them, as well. Instruction from a qualified ski instructor can help. Ski packages can often be purchased that include lift tickets, lessons, and rental ski equipment.
What Age Should Children Start Skiing?
Children can start at almost any age. Indeed, in some ski-crazy families, children start to ski at the age of two or three, and many ski schools will accept children as young as four.
However, just because some children take to the slopes at young ages doesn't make this a good choice for every child. Skiing requires a good sense of coordination and balance and a healthy attitude toward falling and trying again. Many children are better off waiting until they are five or six.
Who Should Teach a Child to Ski? Parents or Trained Ski Instructors at Ski Schools?
Many parents who are good skiers assume that they will be able to teach their own children. Indeed, this does work for some people, especially if parents have teaching experience (and better yet, ski teaching experience). But it doesn't work for many parents.
Ski school instructors are trained to work in a methodical step-by-step way with young children. Children first learn to put their skis on and off. They may then practice falling and getting up.Instruction continues with sliding exercises on one ski (the foot without the ski is used for balance). The instructor may lead the child in follow-the-leader games that familiarize the children with the idea of sliding on a long piece of metal attached to their feet. The ski instructor also knows when to stress particular issues, such as correct body position, and when to let certain things slide (so to speak).
Ski instructors also learn how to describe basic movements to children, using words like "Make a pizza!" to tell the child to perform a snow-plow stop by making a V-shape with their skis.
Another benefit of sending a child to a class is that children tend to look to each other for cues on how to interpret a grown-up's instructions. Copying each other is a learning tool, and seeing other children falling, laughing, and getting up from a fall turns the process into a game.
In contrast, children learning one-on-one with a parent may be expected to do certain tasks before they are ready, or may become quickly frustrated. The teacher, whether a parent or a professional, needs to be able to identify what the child needs to do differently and needs to be able to explain and demonstrate it in a way the child can understand and apply. Too often, parents find themselves in over their heads and on the slopes with a crying child.
More First-Day Ski Tips for Parents
Once at the destination, the most important factor in a successful ski outing is making sure children are warm and comfortable in layers of winter clothing. A cold child is a miserable child, and hypothermia is a very real issue. Bathroom trips need to be made before everything is zipped, buttoned, and Velcroed closed. Ski helmets are an essential safety accessory.
Accompany the child to the ski lesson and stay around for the first few minutes to be sure that the class is moving smoothly. Once the class is underway, move out of sight and let the professional instructor do her job. Indeed, now is the time when parents can take to the slopes themselves for some unencumbered runs.
Parents who do teach their children to ski should note that ski instructors don't put the children between their legs and ski with them (as many parents try to do). Instead, children are kept on the very flattest parts of the bunny hill until they can manage independently. Notice that young beginners do not use ski poles. Some parents do ski with "leashes" that help prevent their child from careening downhill out of control. There are also gadgets that attach to the skis to keep the tips from crossing, which is one of the biggest challenges for children (and indeed, beginning adults, as well).
Finally, don't over do it. Most ski school lessons run for a half day, and after a morning of learning to ski, a young child is apt to be exhausted. Take a lunch break, and then judge carefully whether Junior is up for a couple of runs down the bunny slope, or whether it's time to call it a day.