Cross country skiing trails in Illinois and Southern Wisconsin and Michigan – Chicago Adventure Travel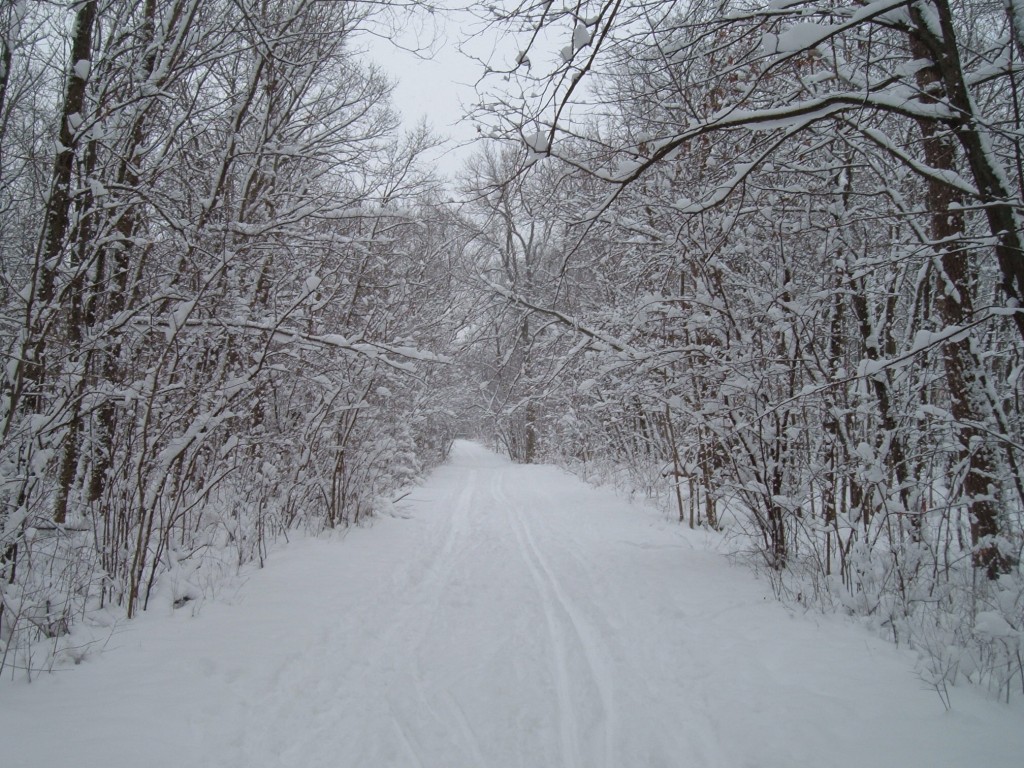 Cross-country ski trails near Chicago include some great areas within a four hour drive. After learning a little bit about the sport and getting acclimated to being on skis it is time to venture out of the city and find some areas with some actual country to cross including some hills.
First off it is important to note a differentiation in cross-country skiing. There are two styles of skiing called classical and freestyle or skating. Classical cross-country skiing is shuffling along in two ski tracks in a path that has already been made for the skier by a snowmobile and a groomer. This style better suits the beginner.
Freestyle or skating is how Olympic skiers ski. For this method the trail is also groomed, but instead of having two tracks the snow on the whole path is flattened down. For this method the skier digs the edges of his skis in the snow and pushes off like an Olympic skater does on the ice. It is a faster and more aerobic in style and takes getting used to and usually needs a different kind of ski and boot. It is important to note the difference because new skiers should stay off the freestyle trails.
Illinois
Mississippi Palisades State Park–
Bluffs situated on the Mississippi River make for perfect terrain to cross-country ski. Check out some amazing over looks of the Mississippi and the surrounding bluffs while there. The park has about 15 miles of trails.
Rock Cut State Park–
This is Illinois' largest state park, so it is no wonder that it also the best trail system in the state for hiking and cross-country skiing. The website promises a winter trail guide is being developed to let the visitor know which trails are groomed for classical skiing and which are groomed for freestyle/skating.
Wisconsin
Kettle Moraine State Forest both South and North units–
Due to the glacial features of these two parks these areas are great for cross-country skiing. The north is a little better terrain wise, but the southern unit is a little closer and easier from which to make a one day trip. Each park has more than 20 miles of groomed trails and the park website has up to date news about trail conditions and snow. Both parks also have groomed trails for both classical and freestyle.
Black River State Forest –
This is pretty much the edge of any trip that could be considered a day trip as it is about four hours away. There are 24 miles of trails in the park ranging from beginner to expert and they also have groomed trails for both classical and free style.
Michigan/Indiana
Warren Dunes State Park and Indiana Dunes–
Only six miles of trails are groomed in the Warren Dunes State Park found just north of the Michigan and Indiana border. What is important to note here is that there is sometimes lake effect snow on this end of the lake when there is none elsewhere in the region, so do not ignore this park.
Closer to home is the Indiana Dunes National Lakeshore which is also found in a swath of territory where lake effect snow is common.  There is about 10 miles of trails here although they are not groomed.  Ungroomed trails are usually not a problem except for the first skier as it is a little slower for them.  This location is near millions of people, therefore the percentage of being that first skier are pretty slim.
Allegan State Park –
This is just north of Warren Dunes, but a little inland from the lake, so it may or may not have lake effect snow. This area is a little farther from Warren Dunes, but has more than twice as much trail mileage. Skiing is only allowed after January 1, so do not jump here.
A good site for Michigan cross-country ski trail information can be found here.
This column will be cross country ski central as soon as the snow falls and before. There will be future columns featuring descriptions of ski trails in Chicago, the suburbs, and all around the Midwest, as well as snow and trail conditions. Stay tuned and please subscribe to my articles at the top if a fan of adventure travel including hiking, canoeing, cross-country skiing, fishing to name a few.